If you haven't tried a bread pudding by now you should definitely try this delightful Strawberry Bread Pudding. It is so easy to prepare and it is absolutely an amazing treat the whole family will love. You can serve it for breakfast if desired or as a dessert alongside some ice cream or as a snack during the day. 
This Strawberry Bread Pudding consists of layers of brioche or challah bread cubes and strawberries, covered in a delicious custard mixture and baked until golden and puffed. You can serve this bread pudding right away, while still warm, with some whipped cream or ice cream, or serve it chilled. Either way you like it, it is delicious. 
You can always make variations to this bread pudding and add various berries or other seasonal fruits during the summer days. You can also add some chocolate chips or raisins. Feel free to adjust the recipe to suit your own tastes.
How to make strawberry bread pudding
Get the oven nice and warm at 300°F (150°C). Cut the bread into big chunks and put them on a baking sheet. Let the bread toast in the oven for about 5 minutes.
Chop the fresh strawberries into smaller pieces. Spread some butter in a baking dish that holds about 2 quarts (2 liters).
Put a layer of the bread chunks in the dish. Add about half of the strawberries on top. Then, put the rest of the bread on top of that.
In a big bowl, mix together the eggs, sugar, a little salt, vanilla extract, and cinnamon. Slowly pour in the milk and cream while you keep mixing.
Now, pour this milky mixture over the bread in the dish. Push down a bit with a spatula so the bread soaks up the milk.
Put the rest of the strawberries on the bread and let everything sit for 10-15 minutes.
While you wait, heat the oven to 350°F (180°C).
Put the strawberry bread pudding in the oven and let it bake for around 35-40 minutes. You'll know it's ready when it looks golden and puffy.
Give it a breather for 10 minutes before you dig in. Sprinkle some powdered sugar on top for a sweet touch.
Hope you will give this amazing Strawberry Bread Pudding a try and don't forget to share the photos with me on Instagram if you do. Enjoy!
Other similar recipes you may like to try
If you like custardy treatds you might like this Strawberry Dutch Baby Pancake. It's a pleasure to watch this pancake how it puffs in the oven and the texture is simply irresistible. Due to baking in a hot iron cast pan the pancake gets a crispy edge while the interior remains soft and almost like a custard. 
This Easy Magic Custard Cake separates into three distinct layers while baking. The top layer is spongy, the middle layer is a creamy custard, and the bottom layer is dense. The addition of lemon zest really adds a delicate flavor to the cake, making it an impressive and elegant dessert for any occasion. 
This Strawberry Yogurt Clafoutis is a classic French dessert that combines the goodness of fresh strawberries and creamy yogurt in a light and fluffy custard.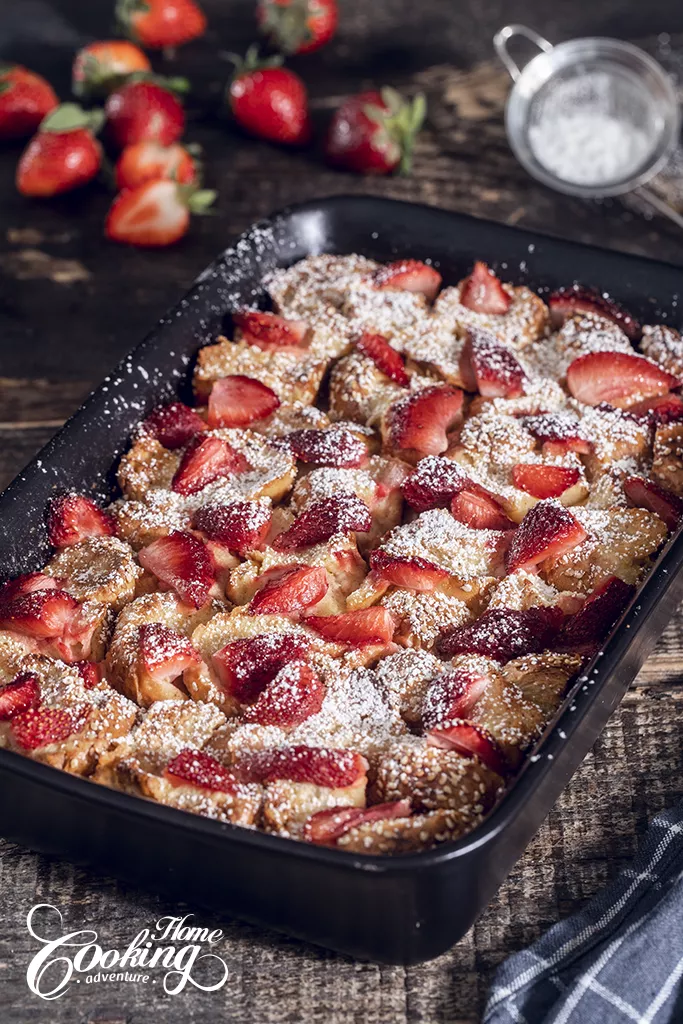 YOU MAY ALSO LIKE:
Strawberry Scones
Easy Strawberry Cake
Japanese Souffle Pancakes
Strawberry Oat Crumble Bars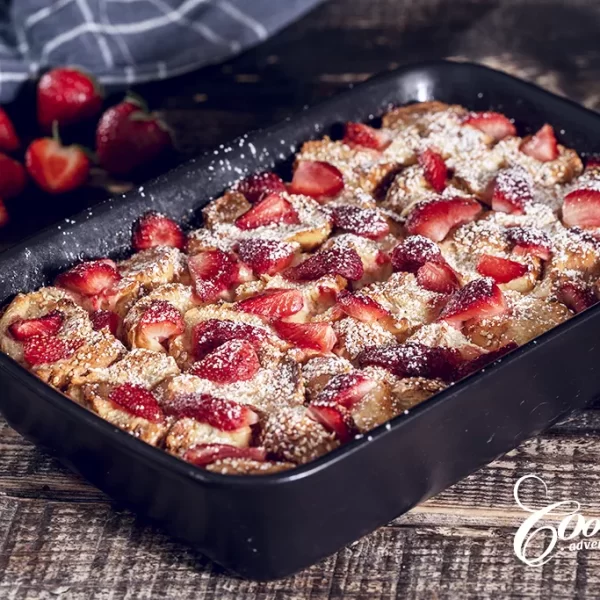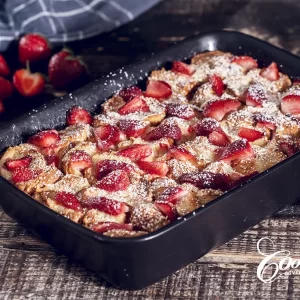 Strawberry Bread Pudding
This delightful Strawberry Bread Pudding is so easy to prepare and it is absolutely an amazing treat the whole family will love.
Ingredients
1

pound

(500g) brioche or challah bread

, cut into large cubes 

10

oz

(300g) fresh strawberries

4

eggs

1/2

cup

(100g) sugar

1/4

tsp

(1g) salt

2

tsp

(10g) vanilla extract

1/2

tsp

(1g) cinnamon

2

cups

(480ml) milk

1/2

cup

(120g) whipping cream

1

tbsp

 butter

, for greasing the baking dish
Instructions
Preheat the oven to 300F (150C). Cut the bread into large cubes. Transfer to a baking sheet.

Toast the bread in the oven for about 5 minutes.

Cut the fresh strawberries into smaller pieces.

Grease with butter a 2 quart (2 liters) baking dish.

Add a layer of bread cubes. Spread about half of the strawberries.

Cover with the remaining bread cubes.

In a large bowl mix whisk eggs with sugar, salt, vanilla extract and cinnamon. Gradually add milk and cream.

Pour milk mixture over the bread cubes. Press with a spatula to evenly coat the bread with milk mixture.

Spread the remaining strawberries and let it rest for 10-15 minutes.

Meanwhile, preheat the oven to 350F (180C).

Bake the strawberry bread pudding for about 35-40 minutes until golden and puffed.

Let it cool for 10 minutes before serving.

Dust with powdered sugar and serve with vanilla ice cream or whipped cream. Enjoy!
Nutrition
Serving:
1
serving
Calories:
350
kcal
Carbohydrates:
50.3
g
Protein:
12.1
g
Fat:
11.8
g
Saturated Fat:
4.6
g
Cholesterol:
192
mg
Sodium:
394
mg
Potassium:
147
mg
Fiber:
1.9
g
Sugar:
22
g
Calcium:
106
mg
Iron:
3
mg