This amazing Tiramisu Cake is an exceptional dessert that can be prepared for your loved ones throughout the year. It is a sophisticated dessert that consists of four layers of moist and soft sponge cake. The sponge cake is soaked in espresso and Marsala wine, which gives it a unique taste. The filling is a smooth and fluffy Mascarpone frosting, which adds to the deliciousness of the cake. It is one of the easiest layer cakes to make, yet it is heavenly and will surely satisfy your cravings.
You can serve it chilled, no need to let it rest to get to room temperature. For the sponge cake I use oil instead of butter, which helps to keep it moist and soft even when the cake is resting in the fridge.
How to make Tiramisu Layer Cake
To prepare this delicious vanilla Tiramisu cake first preheat the oven and prepare the sponge cake. For this mix the yolks with sugar, oil, and sparkling water, while beating the egg whites with salt, sugar, and vanilla extract. Gently fold the egg mixture and flour together and bake for 40-50 minutes. Then prepare the Mascarpone frosting by mixing Mascarpone, powdered sugar, and vanilla with whipped cream. Assemble the cake by dividing the sponge cake into four layers.  Brush each layer with a mixture of coffee and Marsala and spread the Mascarpone frosting between the layers Refrigerate the cake before serving. Finally, dust the cake with cocoa powder and decorate as desired.
If you want a quicker version of Tiramisu, try the classic Tiramisu I've already shared the recipe with you, which is absolutely delicious. The difference between the two recipes is that this layer cake is uses sponge cake instead of ladyfingers and there are no eggs in the frosting. Both versions are out of this world, hope you will try both.
When making this Tiramisu cake for children, you can replace the coffee and Marsala wine with cocoa syrup and the cake will surely turn into their favorite cake. Hope you will try it out and don't forget to tag me on Instagram if you do. Enjoy!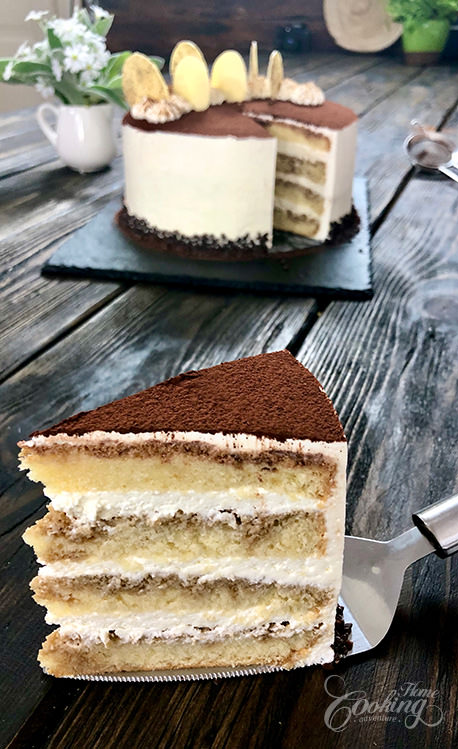 YOU MAY ALSO LIKE:
1-Minute Tiramisu Mug Cake
Tiramisu IceCream
Chocolate Mocha Hurricane Swiss Roll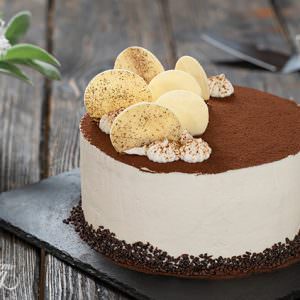 Tiramisu Layer Cake
This amazing Tiramisu Cake is one of the best desserts you can prepare for your loved ones all year round. An elegant dessert consisting of four layers of moist and soft sponge cake, soaked in espresso and Marsala wine, filled with a smooth and fluffy Mascarpone frosting. One of the easiest layer cakes I've made so far and is simply heavenly.
Ingredients
Vanilla Sponge Cake
5

eggs

, separated

1

cup

(200g) sugar

, divided

1

tsp

(5g) vanilla extract

1/2

cup

(115g) oil

1/2

cup

(120ml) sparkling water

2

cups

(250g) flour

2 ¼

tsp

(10g) baking powder

1/4

tsp

(1g) salt
Coffee Mixture
1

cup

(240 ml) espresso coffee

, at room temperature

2

tbsp

(30ml) Marsala wine
Mascarpone Frosting
1 ½

pounds

(750g) Mascarpone cheese

, room temperature

2

cups

(480g) whipping cream

, chilled

1

cup

(120g) powdered sugar

2

tsp

(10g) vanilla extract
White Chocolate Decoration
2.5

oz

(70g) white chocolate

1

oz

(30g) white chocolate

, for tempering

instant coffee powder

, for dusting
For decoration
Cocoa powder for dusting the cake
Instructions
Preheat the oven to 340F (170C). Grease and line the bottom and sides of a 8 inch (20 cm) pan with parchment paper.
Prepare vanilla sponge cake.
Separate whites from yolks.

In a medium bowl mix yolks with ½ cup (100g) sugar, until creamy and pale yellow colored. Gradually mix in oil and then add sparkling water.

In a large bowl mix egg whites with salt until foamy. Gradually add remaining ½ cup sugar. Mix in vanilla extract.

Continue mixing until stiff peaks form.

Gently fold a spoon of whipped whites into the yolk mixture and then gently fold the yolk mixture into the whipped whites.

Gradually sift the flour and baking powder over the egg mixture and gently fold them in.

Pour the batter into the prepared pan.

Bake for 40-50 minutes, until a toothpick inserted into the center comes out clean.

Let it cool for about 10-15 minutes. Remove from the pan and cool completely on a rack.
Prepare Mascarpone Frosting.
In a large bowl mix mascarpone until smooth. Add powdered sugar and vanilla and mix until combined.

In another bow whip cream until stiff peaks form. Gradually fold into Mascarpone mixture.
Assemble the cake.
Divide the sponge cake into 4 layers. Place one cake layer on your serving plate.

In a bowl mix coffee with Marsala if using.

Brus the cake with coffee mixture. Spread evenly with Mascarpone frosting. Repeat with the second and third layer of cake. Add the last layer of cake, brush with coffee and cover the top and sides with a thin layer of frosting for crumb coating. Refrigerate for 15 minutes.  Cover the top and sides with remaining frosting.

Decorate the bottom of the cake with chopped chocolate.

Refrigerate for at least 1 hour before serving.
Meanwhile, prepare white chocolate decoration.
Melt 2.5 oz (70g) white chocolate over bain-marie. Remove from heat and add remaining chopped white chocolate for tempering. Stir until melted.

Spread chocolate evenly into a thin layer on parchment paper. Dust with instant coffee powder and refrigerate until slightly set, for about 10-15 minutes. Use round cookie cutters to cut the chocolate. Refrigerate until completely set and ready to use.

Dust the cake with cocoa powder. Decorate with chocolate disks and pipe remaining Mascarpone frosting if desired. Enjoy.
Nutrition
Serving:
1
serving out of 12
Calories:
510
kcal
Carbohydrates:
46.2
g
Protein:
11.7
g
Fat:
31.3
g
Saturated Fat:
14.3
g
Cholesterol:
142
mg
Sugar:
27
g