Tortilla de Patatas, also known as Spanish Omelette or Tortilla Española, is a beloved traditional dish from Spain. It is made using basic and simple ingredients like potatoes, onion, and eggs. Tortilla de Patatas has become a staple in Spanish cuisine, with variations of the dish being prepared throughout the country. This simple yet flavorful omelette is loved by many and is a must-try for anyone interested in experiencing authentic Spanish cuisine.
How to make Tortilla de Patatas
The potatoes and onion are first cooked in extra-virgin olive oil until they become tender but not brown. Afterward, the potatoes are drained and mixed with whisked eggs before being returned to the pan and cooked again on both sides in a little oil until they turn golden brown. The consistency of the omelette can be adjusted to personal preference; some prefer it to be runny while others like it drier. Regardless of preference, this dish is delicious and always a crowd-pleaser.
Preparing this dish is relatively easy, and it can be served either warm or cold at room temperature. It pairs well with fresh salad and crusty bread, making it an ideal meal for any occasion.
This Tortilla de Patatas is a tasty and straightforward dish that is sure to impress anyone who tries it. With its versatility and crowd-pleasing appeal, it is an excellent addition to any meal or social gathering.
Give it a try and enjoy the delicious taste of this beloved Spanish classic. Make sure to tag me on Instagram if you do as I would love to see how it turned out for you.
Other skillet potato recipes you may like to try
If you like easy potato recipes you may also like to try this Potato Crust Quiche. It is a healthy, delicious, and comforting dish perfect for breakfast, brunch, lunch, or dinner. This Potato Gratin is another dish we love that is very easy to prepare and perfect for special occasions. These Crispy Sliced Roasted Potatoes are one of my favorite potato dishes as they taste amazing and look quite impressive. For more potato recipes check our collection of Potato Recipes.
YOU MAY ALSO LIKE:
Potato Crust Pizza
Parmesan Potato Stacks
Potato Gratin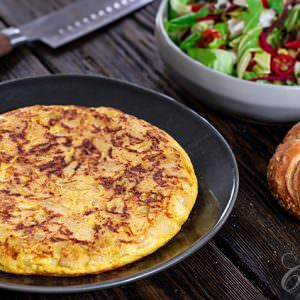 Tortilla de Patatas - Spanish Omelette - Tortilla Española
Tortilla de Patatas or either known as Spanish Omelette or Tortilla Española is a traditional dish from Spain that is made with basic simple ingredients like eggs potatoes and onion. The potatoes and onion are cooked in extra-virgin olive oil. It is simply delicious and a crowd-pleaser.
Ingredients
3

medium potatoes (about 650g)

5

eggs

1

onion

, thinly sliced

Salt to taste

2 ½

cups

(600ml) good quality extra-virgin olive oil
Instructions
Peel potatoes, cut in half and then in quarters. Cut into ? inch (3mm) slices.

Cut onion into thin slices.

In a 9.5 inch (24cm) non-stick frying pan heat olive oil over medium-high heat. Add potatoes and onion, add salt to taste and reduce heat to medium. Cook for about 10-12 minutes until potatoes are fork tender but not brown.

Remove from pan with a slotted spoon and place into a sieve over a bowl to let the oil drain. Let cool slightly. The olive oil can be strained and reused.

Meanwhile crack eggs into a large bowl. Season with salt and whisk to combine. Add cooled potatoes and onion and stir to combine.

Heat 1 tbsp of olive oil into the non-stick pan and add potato and egg mixture. Stir the mixture to get some cooked egg on top. Press slightly and let the tortilla cook for 5-6 minutes. Tuck the edges in and place a larger plate on top of the pan. Flip the tortilla onto the plate and slide the tortilla back into the pan.

Now depending on your taste preferences if you want it more moist and runny or more cooked inside cook the tortilla for 2-4 minutes more. Invert onto a serving plate and let sit for a few minutes.

Serve tortilla warm alongside some fresh salad and crusty bread. Enjoy!
Video
Nutrition
Serving:
1
serving out of 4
Calories:
302
kcal
Carbohydrates:
28.5
g
Protein:
10
g
Fat:
17.3
g
Saturated Fat:
3.4
g
Cholesterol:
205
mg
Sugar:
3.5
g