If you're a fan of banana bread, you're in for an absolute treat with this scrumptious Chocolate Banana Bread! It's a delightful twist on the classic favorite that takes the indulgence to a whole new level. Imagine a moist, chocolaty loaf bursting with rich flavor, making it the perfect companion to your morning coffee or a glass of cold milk.
When whipping up this delectable creation, be sure to use ripe bananas to unlock the best flavor and texture. The natural sweetness of the bananas adds a delightful touch to the overall taste, ensuring a satisfying experience in every bite. To truly elevate the chocolatey goodness, opt for high-quality cocoa powder and chocolate, infusing the bread with an intense and irresistible chocolate flavor that will have you coming back for more.
Not only does this Chocolate Banana Bread tastes heavenly, but it's also incredibly simple to prepare. The straightforward recipe allows even novice bakers to whip up a delightful loaf in no time. Plus, you can plan ahead and make a batch in advance, freezing it for later indulgence. It's a fantastic option for those moments when you crave a sweet treat but want to savor it at your convenience.
Make this Chocolate Banana Bread a wonderful addition to your baking recipes. With its moist texture and dreamy chocolate flavor, it's sure to be loved by banana bread fans and chocolate lovers alike. If you do, don't forget to tag me in your Instagram posts or stories, so I can see your amazing results. 
How to make chocolate banana bread
To begin, preheat your oven to 350F (180C) and grease a 9X5 inch (23 X 13 cm) loaf pan and line the bottom and sides with parchment paper. 
In a medium bowl, combine flour, cocoa powder, salt, baking powder, and baking soda. This mixture will serve as the dry ingredients, providing structure and a rich chocolate flavor to the bread.
In another medium bowl, take the ripe bananas and mash them with a fork until creamy. The bananas will add natural sweetness and moisture to the bread.
In a large bowl, using an electric hand mixer, cream together the butter and sugar until light and creamy. This step incorporates air into the mixture, resulting in a soft and fluffy texture. Add the eggs one at a time, mixing well after each addition. Then, add the vanilla extract and the mashed bananas and mix them into the batter.
With the mixer on low speed, gradually incorporate the dry flour mixture. This step ensures that all the ingredients are well combined without overmixing. Stir in the chocolate chips or chunks, adding an extra touch of decadence to each bite.
Pour the batter into the prepared loaf pan, spreading it evenly. Sprinkle some additional chocolate chips or chunks on top. Place the pan in the preheated oven and bake for approximately 50-60 minutes, or until a toothpick inserted into the center of the bread comes out clean. 
Remove it from the oven and allow it to cool in the pan for 10 minutes. This brief resting period allows the bread to set before transferring it to a cooling rack. Once cooled, the Chocolate Banana Bread can be sliced and enjoyed as is or with a dollop of whipped cream or a drizzle of chocolate sauce for an extra touch of indulgence.
Other banana recipes you may like to try
This Banana and Coconut Bread, is very easy to prepare, and it results in a moist bread that combines so well the taste of banana walnuts and coconut flakes. Instead of walnuts you can use macadamia nuts or almonds, that's a matter of preference. All you have to do next is to enjoy it along with a warm cup of coffee.
This Cream Cheese Banana Bread is one of the most comforting breads you can ever make. If you like banana bread you should definitely try this cream cheese banana bread recipe. Its moist, flavorful crumb and silky cream cheese filling makes it simply irresistible.
This Eggless Chocolate Banana Cake is a must-try recipe! It's a moist and decadent cake that's bursting with banana flavor and rich chocolatey goodness. This cake is perfect for serving at gatherings, as it's sure to please any crowd.
This Banana Bread Mug Cake is packed with flavor as it consists of a ripe banana and cinnamon mixture enriched with toasted pecans for extra flavor and texture. You can serve it with some whipped cream or cream cheese on top or simply as is with a cinnamon sugar sprinkle.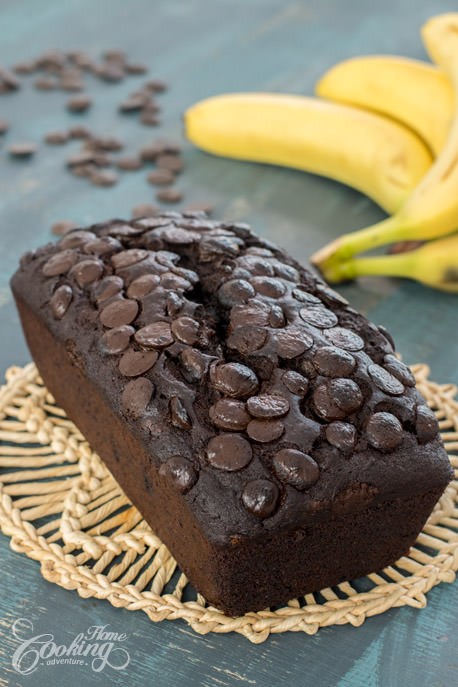 YOU MAY ALSO LIKE:
Banana Caramel Chocolate Mousse Cake
Banoffee Pie
Oatmeal Banana Chocolate Breakfast Cookies
Nutella Banana Hand Pies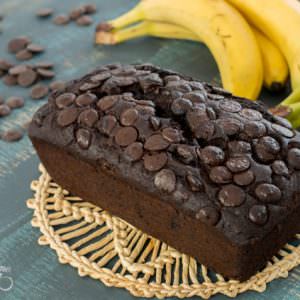 Chocolate Banana Bread
If you usually love banana bread you will definitely love this Chocolate Banana Bread as it is one of the best ways to prepare it. It is moist, chocolaty and full of flavor and makes a great treat alongside morning coffee or milk.
Ingredients
1

cup

(125g) all-purpose flour

1/2

cup

(60g) unsweetened cocoa powder

1

tsp

(6g) baking soda

1/2

tsp

(2g) baking powder

1/2

tsp

(3g) salt

3/4

cup

(150g) brown sugar

2

eggs

1/2

cup

(113g) butter

, room temperature

3 or 4

ripe bananas (about 1 ¼ cup (300g) puree

4

oz

(120g) semisweet chocolate chips/chunks

1

tsp

(5g) vanilla extract
Instructions
Preheat the oven to 350F (180C). Lightly grease a 9 X 5 inch – 23 X 13 cm loaf pan. Line the bottom and sides with parchment paper.

In a medium bowl combine flour, cocoa powder, salt, baking powder and baking soda.

In a medium bowl, mash the ripe bananas with a fork.

In a large bowl, using an electric hand mixer, cream together the butter and sugar until creamy. Add in the eggs and mix well. Add vanilla extract and mix in the mashed bananas.

With mixer on low speed incorporate the flour mixture. Stir in chocolate chips/chunks.

Pour the batter into the prepared loaf pan and sprinkle with chocolate chips/chunks on top. Bake for about 50-60 minutes until a toothpick inserted into the center comes out clean. Let bread cool in pan for 10 minutes, and then cool completely onto a cooling rack.
Nutrition
Serving:
1
loaf
Calories:
2839
kcal
Carbohydrates:
376.1
g
Protein:
46
g
Fat:
142.3
g
Saturated Fat:
88.4
g
Cholesterol:
596
mg
Sugar:
209.6
g