Here are 10 breakfast recipes that are easy to prepare and will definitely make a great choice for a good start of the day.
1. Dutch Baby Pancake
I really love quick ideas for breakfast and this Dutch Baby Pancake is one of our favorite treats lately. It's a pleasure to watch this pancake how it puffs in the oven and the texture is simply irresistible. Due to baking in a hot iron cast pan the pancake gets a crispy edge while the interior remain soft and almost like a custard. To enjoy the right texture it is important to serve it right after you take it out of the oven.

2. Cheese Potato Pancakes
Quick and easy potato recipe that you can either prepare for breakfast or as a side dish or simply as a snack. Really crispy on the outside while the interior is soft and deliciously flavored.

3. Ricotta Blueberry Pancakes
Summer is bursting with berries and I really enjoy using them for various breakfast dishes like in this delicious Ricotta Blueberry Pancakes. The add of ricotta and lemon zest really takes the pancakes to a next level.
4. Perfect Guacamole
Guacamole is one of the most popular Mexican dish, known worldwide, that is very easy to prepare and is suitable for any occasion. Guacamole can be served with tortilla chips for a great texture.

5. Shakshuka
Eggs are poached in a delicious tomato sauce, very easy to prepare, healthy, comforting, flavorful, wonderful colors, definitely a must try recipe. It is usually served for breakfast and it's perfect for brunch on lazy weekends.

6. Crisp Apple Pancakes
These apple crisp pancakes are one of the best pancakes ever. They are really fluffy and so flavorful, with chunks of soft apples inside. The best part of all is the crispy streusel topping as the sugar gets caramelized and crispy while cooking, creating a great texture and taste.

7. Tomato Grilled Cheese Sandwich
Grilled cheese sandwiches with gooey melted cheese, summer roasted tomatoes, fresh basil and crispy buttery bread slices are a great choice for breakfast or lunch whenever you want something quick, satisfying and delicious. Summer roasted tomatoes are flavorful and are a great choice for filling these sandwiches and create unique and impressive sandwiches.

8. Homemade Waffles
This is my favorite waffle recipe so far. The batter is easy to work with and the waffles come out light, crispy and fluffy. Waffles are best served right away while still a bit crispy on the outside, with butter, maple syrup or honey.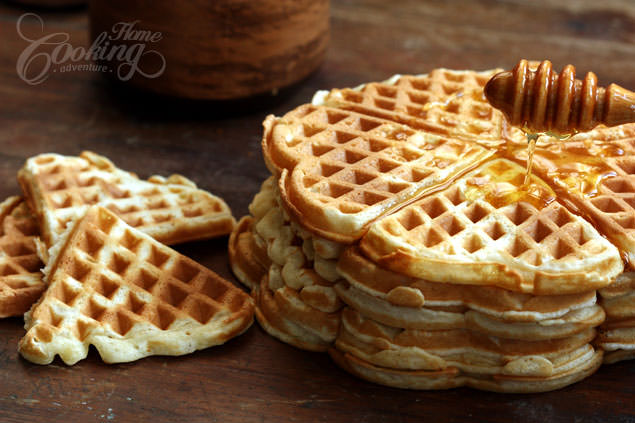 9. Twice Baked Potato with Egg on Top
Baked stuffed potatoes are the kind of dish few could refuse not to mention that are easy to make, healthy and so tasty.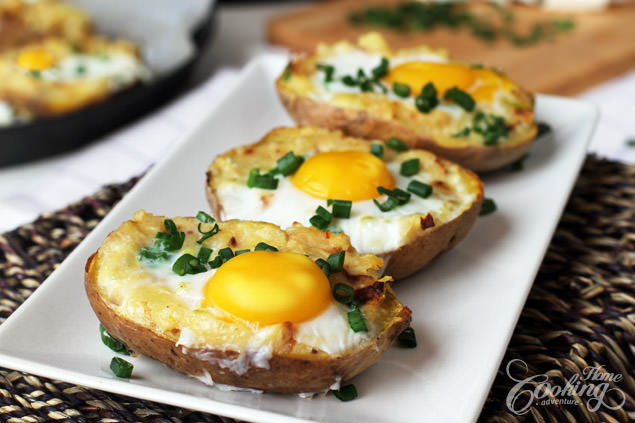 10. Apple French Toast Roll-Ups
I really love finding new ideas for breakfast time like these Apple French Toast Roll-Ups, that are simply wonderful for apple season. Slices of bread, filled with delicious cream cheese and apple cinnamon mixture are rolled and dipped in egg and milk mixture and then cooked until golden brown. And that is not all, once cooked, they are rolled in a cinnamon sugar mixture for extra flavor and texture. It is such an incredible way of having apple for breakfast, and kids really love it.
OTHER RECIPE COLLECTIONS:
20 Yogurt Desserts
10 Choux Pastry Recipes
30 Irresistible Custard Desserts
15 Cake Roll Recipes
35 Mouthwatering Gluten-Free Desserts
35 French Desserts
15 Delicious Coffee Desserts
15 Lemon Desserts
20 Baked Cheesecake Recipes
15 No-Bake Cheesecake Recipes
Coconut Recipes
25 Healthy Recipes
20 Muffin Pan Recipes
40 Best Back-to-School Recipes
35 Strawberry Desserts
20 Eggless Cake Recipes
1 Minute Mug Cake Recipes: 6 ways
Top 10 Refined Sugar-Free Desserts
10 Nutella Recipes
10 Apple Recipes