This Strawberry Streusel Cake is a delicious and easy-to-make dessert that's perfect for any occasion. Made with a moist, buttery cake base and loaded with sweet, juicy strawberries, this cake is topped with a mouthwatering streusel that adds a crunchy texture to every bite.
One of the best things about this recipe is that it's incredibly adaptable to different fruit varieties, so you can make it with whatever fruit is in season or that you have on hand. Whether you prefer the tang of apricots, the sweetness of peaches, or the burst of blueberries, this cake will be equally delicious and satisfying.
In addition to being a tasty treat, this recipe is also incredibly easy to prepare, making it a great choice for getting kids involved in the kitchen. From measuring out ingredients to mixing the batter and assembling the streusel, this is a fun and rewarding recipe that the whole family can enjoy making and eating together.
So if you're looking for a coffee cake that's both versatile and delicious, give this Strawberry Streusel Cake a try. With its moist cake base, generous amount of fruit, and crispy streusel topping, it's sure to be a hit with everyone who tries it. Enjoy it for breakfast, as a snack, or as a dessert – no matter how you serve it, it's guaranteed to be a crowd-pleaser.
How to make Strawberry Streusel Cake
To make this cake, start by preheating your oven and preparing your pan. Next, mix together the streusel topping, which is made with brown sugar, flour, salt, and cinnamon. Once the mixture is crumbly, set it aside and move on to the strawberry filling.
For the strawberry filling, simply cut up some fresh strawberries and toss them with sugar, lemon zest, and cornstarch. This mixture will help keep the strawberries juicy and prevent them from becoming too watery during baking.
Next, it's time to prepare the cake batter. Mix together flour, baking powder, and salt in a separate bowl. Then, in a larger mixing bowl, combine butter and sugar before adding in eggs, sour cream, and vanilla extract. Gradually mix in the flour mixture until everything is well combined.
Pour the batter into your prepared pan, and top with the strawberry filling and streusel topping. Bake for about 40 minutes, or until a toothpick inserted into the center comes out clean. If the streusel is browning too quickly, simply cover the pan with aluminum foil and continue baking.
Once the cake is done, let it cool on a wire rack for at least 20 minutes before serving. You can even dust it with powdered sugar for a little extra sweetness. Serve this delicious Strawberry Streusel Cake warm with a scoop of vanilla ice cream for the perfect dessert.
So why wait? Follow our step-by-step instructions and enjoy the taste of summer in every bite!  If you do, don't forget to share the photos with me on Instagram. And don't forget to explore our blog for more delectable dessert ideas and cooking tips. Enjoy!
Other streusel recipes you may like to try
These Strawberry Oat Crumble Bars are the perfect treat for spring and summer, with a buttery crust, soft strawberry filling inside and a crunchy crumble on top. These bars are a great way to make a quick and easy strawberry dessert that everybody will enjoy.
This flavorful German Apple Streusel Cake -Apfelkuchen mit Streusel is one of the best apple cakes you can ever make. It is so comforting making it a perfect dessert for cozy days. 
These Peach Crumble Muffins are simply amazing. Soft and moist inside, full of peach pieces, with crispy crumble on top, are by far one of the best treats you can get alongside your morning coffee.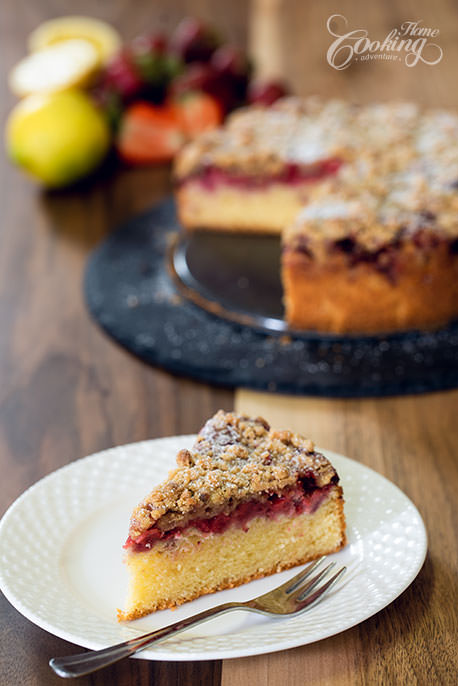 YOU MAY ALSO LIKE:
Caramel Apple Crisp Cheesecake
Berry Crumble
Easy Blueberry Muffins
Raspberry Yogurt Bars
Strawberry Streusel Cake
Strawberry Streusel Cake is a moist buttery cake filled with a generous amount of strawberries and topped with an amazing crispy streusel. By far one of the best coffee cakes you can ever prepare.
Ingredients
Cake Batter
1/3

cup

(75g) butter

, room temperature

1/3

cup

(70g) sugar

3

eggs

3

tbsp

(45g) sour cream

1

tsp

(5g) vanilla extract

2

tsp

(8g) baking powder

1 ¼

cup

(160g) flour

1/4

tsp

(1g) salt
Strawberry Filling
10

oz

(300g) fresh strawberries

2

tbsp

(30g) sugar

1

tbsp

(8g) cornstarch

Zest from a lemon
Streusel Topping
2/3

cup

(85g) all-purpose flour

Pinch of salt

1/4

cup

(56g) butter

, room temperature

1/4

cup

(50g) brown sugar

1/4

tsp

(1g) ground cinnamon
Instructions
Preheat oven to 350F (180C). Grease an 8 inch (20cm) pan and line with parchment paper.
Prepare the streusel topping.
In a medium bowl, combine brown sugar with all-purpose flour, salt and cinnamon. Whisk to combine, then add softened butter with a fork until the mixture feels crumbly. Set the streusel aside until all the other ingredients are prepared.
Prepare the strawberry filling.
Cut strawberries into small pieces and place into a bowl. Add sugar, lemon zest and cornstarch and toss to coat. Set aside until you prepare the cake batter.
Prepare the cake batter.
In a medium bowl whisk the flour with baking powder and salt. Set aside until ready to use.

In a large mixing bowl add butter and sugar and mix to combine. Incorporate eggs one at a time. Add sour cream and vanilla extract and mix to combine.

Gradually incorporate the flour mixture.

Pour batter into prepared pan. Spread strawberry filling and top with streusel topping.

Bake for about 40 minutes until a toothpick inserted into the center comes out clean. If the streusel is browning too quickly cover with aluminum foil and continue baking.

Let cool on a cooling rack for at least 20 minutes before serving.

Dust with powdered sugar if desired.Enjoy!
Nutrition
Serving:
1
serving out of 10
Calories:
281
kcal
Carbohydrates:
37.1
g
Protein:
4.6
g
Fat:
13.1
g
Saturated Fat:
7.7
g
Cholesterol:
79
mg
Sugar:
16.6
g