Here are 10 of our favorite apple recipes that are perfect for fall season or all year round. As apples are so crispy and juicy, full of flavor and texture there is no doubt these recipes are a must-try for apple lovers.
1. Tarte Tatin
Tarte Tatin is a delightful classic French dessert perfect for cold autumn days. Apples are caramelized in a caramel sauce, topped with a buttery crust and baked until crispy. The tart is turned almost immediately upside down, showing the beautiful caramelized apples on top while some of the caramel sauce is dripping onto the serving platter. The combination of the crispy crust with soft caramelized apples is simply amazing.
2. Apple French Toast Roll-Ups
Slices of bread, filled with delicious cream cheese and apple cinnamon mixture are rolled and dipped in egg and milk mixture and then cooked until golden brown. And that is not all, once cooked, they are rolled in a cinnamon sugar mixture for extra flavor and texture. It is such an incredible way of having apple for breakfast, and kids really love it.
I must say these apple crisp pancakes are ones od the best pancakes I have ever had.They are really fluffy and so flavorful, with chunks of soft apples inside and crispy streusel on top. The sugar gets caramelized and crispy while cooking. Such a great texture and taste, I will be making these again and again.
4. Apple Pie
This leaf decorated Apple Pie is a great way to celebrate the year's most colorful season. It is a comforting pie, with a buttery flaky crust filled with sweet, cinnamon flavored and tender apples, a memorable dessert to enjoy with your loved ones.
Everyone love doughnuts, of all kinds, no doubt about that. As apple season is here these soft, fluffy doughnuts filled with spiced apples are simply one of the best treats you can enjoy this fall.
This apple meringue cake is one of the best apple desserts, the meringue has a crispy exterior while the cake is soft and tender. Apples bring such a wonderful flavor and texture, a delightful and comforting fall dessert indeed.
7. Rough Puff Pastry with Apples
This quick recipe incorporate the butter into the flour and involves just some repeated rolling and folding without needing to refrigerate between. It takes no more than 15 minutes to prepare and gets very similar results to a classic puff pastry dough, which is by far much more time consuming until to be ready for baking.
This smoothie is really incredible, beyond my expectations. It is true when everybody say that it tastes like a cake just in a more healthier way. Pumpkin and apples are making such a good combination turning this pumpkin apple smoothie in a perfect fall treat. You can start your day with this pumpkin apple smoothie or have it as a snack later in the day.
This apple-flavored caramel cake is that kind of cake that after is done baking is entirely served in a matter of minutes. Everybody loves it, probably it's the best apple cake I've ever made so far. The only "problem" is that you can hardly stop from eating only one slice.
10. Caramel Apple Cheesecake Bars
Buttery crust topped with cream cheese and tender apples with streusel topping made with rolled oats and almonds. And that is not all…everything is drizzled with salted caramel sauce. This is by far one of the best fall desserts. I really love the use of apples in a cheesecake and the caramel sauce is like the cherry on the top.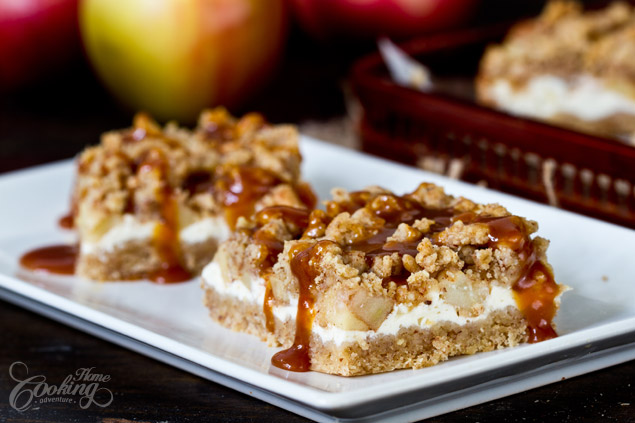 OTHER RECIPE COLLECTIONS:
20 Yogurt Desserts
10 Choux Pastry Recipes
30 Irresistible Custard Desserts
15 Cake Roll Recipes
35 Mouthwatering Gluten-Free Desserts
35 French Desserts
15 Delicious Coffee Desserts
15 Lemon Desserts
20 Baked Cheesecake Recipes
15 No-Bake Cheesecake Recipes
Coconut Recipes
25 Healthy Recipes
20 Muffin Pan Recipes
40 Best Back-to-School Recipes
35 Strawberry Desserts
Easy 10 Breakfast Recipes
1 Minute Mug Cake Recipes: 6 ways
Top 10 Refined Sugar-Free Desserts
10 Nutella Recipes
20 Eggless Cake Recipes