Potato Crust Pizza is a delightful and easy-to-make treat that's gluten-free, and guess what? No need to prepare dough in advance! Let me introduce you to this culinary revelation.
What makes Potato Crust Pizza so special is its simplicity. Instead of dough, the star of the show is a potato crust. Imagine a crust that's soft and crispy, with a hint of potato goodness that perfectly complements the delicious toppings.
The best part is that you can get creative with the toppings and customize your pizza experience. The options are endless, so feel free to experiment and find your favorite combination.
As you take a bite of Potato Crust Pizza, you'll be treated to a symphony of flavors and textures. From the satisfying crunch of the crust to the mouthwatering blend of toppings, every bite is a delight. It is a perfect dish for brunch or lunch.
How to make Potato Crust Pizza
To prepare a delicious potato crust, start by preheating the oven to 425F (220C) and lining a baking sheet with parchment paper. Peel the potatoes and use the large holes of a grater to grate both the cheese and potatoes. Once grated, transfer the potatoes onto a kitchen towel and firmly squeeze to remove as much liquid as possible.
Next, place the potatoes in a large bowl and add the grated cheese, egg, salt, and pepper. Stir the ingredients together until well combined. Spread the potato mixture evenly onto the prepared baking sheet, shaping it into a 12-inch (30cm) circle.
Bake the potato crust in the preheated oven for approximately 25-30 minutes, or until the edges turn slightly golden. Once done, remove the baking sheet from the oven and top the potato crust with Mozzarella cheese, your favorite salami slices, dried basil, oregano, and tomatoes.
Return the baking sheet to the oven and bake for an additional 10-15 minutes, or until the cheese has melted to perfection. Once ready, take out the delicious potato crust from the oven and enjoy your flavorful creation.
Hope you will try this Potato Crust Pizza and savor the amazing flavors it has to offer.  If you do, don't forget to tag me in your Instagram posts or stories, so I can see your amazing results. Enjoy!
Other similar recipe you may like to try
Margherita Pizza with Cauliflower Crust is another gluten-free delicious meal perfect for each time of the day. It is very easy to prepare and very flavorful and comforting. 
Have you ever tried Low Carb – Eggplant Pizza? For those in search of gluten-free pizza solutions this can also be a great choice. These eggplant mini pizzas are perfect for a light dinner, appetizer or simply as a side dish. They look good and have a great taste.
Try this delightful recipe for No-Yeast Pizza perfect for any time of the day. It is quick, easy to prepare and ready in no minute.  Pair this with homemade tomato sauce to make an unforgettable experience.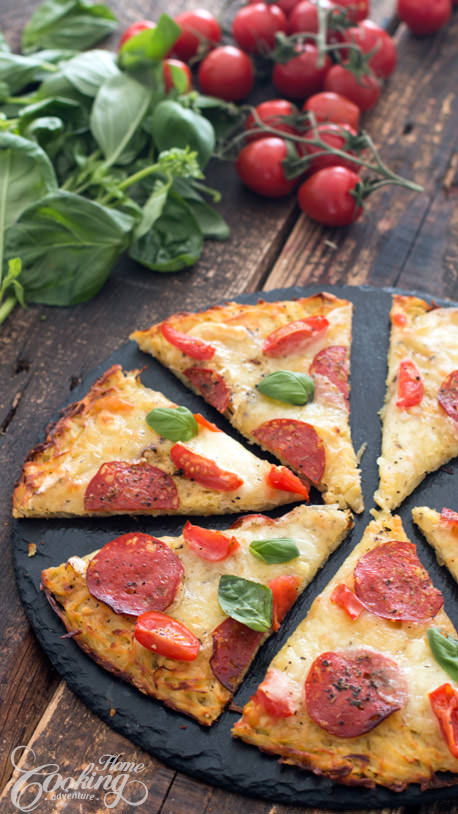 YOU MAY ALSO LIKE:
Potato Crust Quiche
Meat and Potato Skillet
Basic Mashed Potatoes
Sheet Pan BBQ Chicken and Roasted Veggies
Tortilla de Patatas – Spanish Omelette
The Best Roasted Potatoes
Chicken Stuffed Baked Potatoes
Baked Parmesan Sweet Potato Fries
Cheese Potato Pancakes
Roasted Potatoes, Parsnips and Carrots
Roasted Potato and Cheese Tater Tots
Mashed Potato Pancakes
Twice Baked Potato with Egg on Top
Crispy Oven Fries
Homemade Pizza
Pizza Pinwheels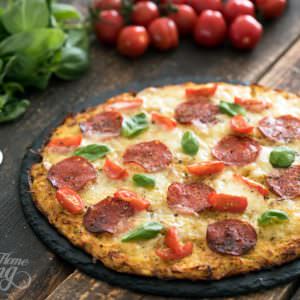 Potato Crust Pizza
Who doesn't love pizza... if made right it's one of the most comforting and satisfying dishes ever. Potato Crust Pizza is very easy to prepare, no need for preparing the dough in advance and it's also gluten-free.
Ingredients
Potato Crust
1 ½

pounds

(700g) potatoes

1/2

cup

(50g) Cheddar cheese

1

egg

2

tbsp

(28g) vegetable oil

Salt and freshly ground black pepper
Topping
1

cup

(100g) Mozzarella cheese

4,5

cherry tomatoes

, cut into quarters

Dried basil

Dried oregano

1

oz

(30g) Chorizo or pepperoni slices
Instructions
Prepare the potato crust.
Preheat oven to 425F (220C). Line a baking sheet with parchment paper.

Peel the potatoes and sse the large holes of the grater to grate cheese and potatoes.

Transfer the potatoes into a kitchen towel and squeeze as much liquid as you possible can.

Place the potatoes into a large bowl. Add cheese, egg, salt and pepper. Stir to combine.

Spread the potato mixture into the prepared baking sheet and form into a 12 inch (30cm) circle.

Bake for 25-30 minutes until slightly golden on the edges.
Assemble the pizza.
Remove from the oven and top the potato crust with Mozzarella cheese, your favorite salami slices, dried basil and oregano and tomatoes.

Bake for 10-15 minutes more until cheese is melted. Enjoy!
Nutrition
Serving:
1
serving out of 4
Calories:
331
kcal
Carbohydrates:
34.1
g
Protein:
12.6
g
Fat:
16.8
g
Saturated Fat:
6.3
g
Cholesterol:
64
mg
Sugar:
6.2
g