These Chicken Stuffed Baked Potatoes are a mouthwatering and nutritious treat that potato enthusiasts will absolutely love, whether it's for a scrumptious brunch, a delightful lunch, or a satisfying dinner. The baked potatoes are stuffed with tender, succulent chicken combined with a medley of fresh vegetables and a savory blend of herbs and spices.
With each delightful bite, you'll feel like you're in food heaven! The tender chicken, fluffy mashed potatoes, and the melted cheese blend together perfectly, creating a delightful harmony of flavors that will leave you yearning for more.
The best thing about this dish is that you can choose from a wide variety of fillings. This makes it perfect for any time of the year because you can customize it with seasonal ingredients and flavors.
Once these delightful potatoes come out of the oven, they have an amazing crispy potato shell that will make your taste buds dance with joy. And let's not forget about the flavorful chicken filling, which perfectly complements the potato's natural goodness. Pair your stuffed baked potato with your favorite dipping sauce for an explosion of flavors, and complete the meal with a fresh and crisp salad to add a refreshing touch.
The best part is that this recipe is incredibly easy to prepare, using simple and readily available ingredients. You don't need any fancy items or complicated techniques. It's all about creating a healthy and satisfying meal that everyone, including kids, will adore.
So, next time you're in the mood for something delicious and wholesome, consider making these chicken stuffed baked potatoes. They're versatile, simple to make, and a delightful treat for any meal of the day!
Don't forget to tag me in your Instagram posts or stories, so I can see your amazing results. Enjoy!
How to make Chicken Stuffed Baked Potatoes
To begin, preheat your oven to a toasty 450°F (230°C). Give the potatoes a thorough scrub and then pierce them with a fork to allow for even cooking. Next, transfer the potatoes to a baking sheet, where you can brush or spray them with a drizzle of olive oil. Bake for approximately 40-45 minutes until they become tender.
While the potatoes are baking to perfection, it's time to prepare the chicken filling. In a large frying pan, heat oil or melt some butter over medium-high heat. Saute the onions and garlic until they turn soft and release their fragrant aromas, for about 5 minutes. Then, add the red pepper and chicken, cut into small pieces, and continue cooking until the meat is thoroughly cooked. Add a sprinkle of fresh parsley, a touch of nutmeg, and season with salt and pepper. Once everything is perfectly combined, remove the pan from the heat, and get ready for the next step.
As the potatoes cool down to a manageable temperature, carefully slice them in half lengthwise. Gently, scoop out the interior of each potato, ensuring a thin shell of flesh and skin remains intact. Lightly mash the scooped-out potato flesh and add it to the savory filling mixture. Give it a good stir, allowing the flavors to meld together.
Adjust your oven temperature to a slightly higher 480°F (250°C). Take the potato shells and generously fill them with the prepared mixture, ensuring they are evenly distributed. Place the stuffed potatoes back on the baking sheet, and generously sprinkle mixed cheese on top for an irresistible golden crust. Return the sheet to the oven for 10-15 minutes until golden brown.
Serve with your favorite dipping sauce or a dollop of creamy sour cream. Alternatively, savor them alongside a crisp and refreshing salad.
Other potato recipes you may like to try
The recipe for these Bloomin' Baked Potatoes is incredibly easy to follow. Simply cut off the top of the potatoes, make circular cuts, flip and cut all the way around. Brush with olive oil, add spices and bake until perfectly cooked and crisp. Once out of the oven, top them with your choice of cheese and let it melt over the top, creating a gooey, cheesy delight that will have everyone coming back for more.
These Stuffed Sweet Potatoes are a delicious, comforting meal. Start by baking your sweet potatoes until they are tender and soft on the inside. Then, scoop out the flesh and mix it with a blend of savory spices and cheeses, along with some crispy bacon and toasted pecans for added texture and flavor. Once the filling is complete, you can stuff it back into the potato skins and bake them once more until they are crispy and golden on the outside.
Try this Mashed Potato Casserole for an amazing side dish idea. The recipe combines mashed potatoes with fennel, which brings a subtle licorice and anise like, flavor to the casserole. This amazing dish is complete by adding Gruyere cheese, and bacon along with a topping of crushed pretzels.
For more potato recipes check our collection of Potato Recipes.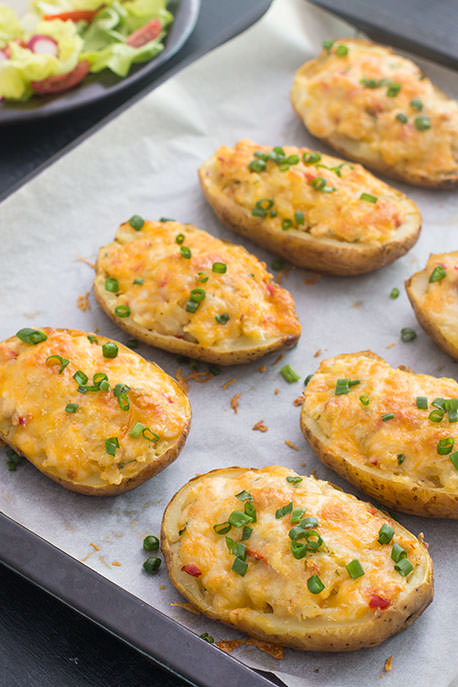 YOU MAY ALSO LIKE:
Stuffed Chicken Breasts
Bacon Wrapped Chicken
The Best Roasted Potatoes
Potato Crust Quiche
Meat and Potato Skillet
Sweet Potato Soufflé
Crispy Sliced Roasted Potatoes
Veggie Burgers – Sweet Potato Burger Patties
Twice Baked Potato with Egg on Top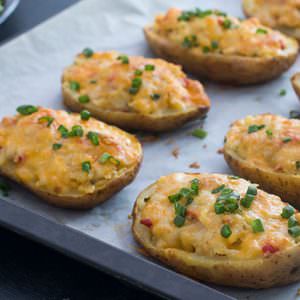 Chicken Stuffed Baked Potatoes
Chicken stuffed baked potatoes is a delicious healthy dish that potato lovers will enjoy either for brunch, lunch or dinner.
Ingredients
4

medium potatoes

1

onion

, diced

2

garlic cloves

, minced

1

red pepper

, chopped

1/2

chicken breast

, (200g) cut in small pieces

1

tbsp

(14g) olive oil

1/2

tsp

(1g) nutmeg

, optional

1

cup

(100g) grated Cheddar cheese

Fresh parsley

Salt and freshly ground black pepper

, to taste
Instructions
Preheat oven to 450°F(230°C). Scrub potatoes, pierce them with a fork. Transfer to a baking sheet Brush or spray the potatoes with olive oil and bake for 40-45 minutes or until tender.
Meanwhile prepare the filling.
In a large frying pan heat oil or butter over medium high heat. Saute the onion with garlic for about 5 minutes until soft. Add red pepper and chicken small pieces and cook until meat is cooked through. Stir in fresh parsley, nutmeg, salt and pepper and remove from heat.

When the potatoes are cool enough to handle cut potatoes in half lengthwise, scoop the interior out of each leaving about 1/4 inch shell of potato flesh and skin. Mash slightly the scooped-out potato, add to filling mixture, and stir.

Turn the oven to 480°F (250°C). Fill the potato shells with the filling mixture and place them on the baking sheet. Sprinkle with mixed cheese on top. Bake for 10-15 minutes until potatoes turn golden brown.

Serve with your favorite dipping sauce or sour cream or alongside a fresh salad.
Nutrition
Serving:
1
serving out of 8
Calories:
161
kcal
Carbohydrates:
19.6
g
Protein:
6.8
g
Fat:
6.5
g
Saturated Fat:
3.1
g
Cholesterol:
18
mg
Sugar:
2.7
g