Macaroni and Cheese is simply irresistible, there's absolutely nothing not to love about it! Whether served for lunch or dinner, this baked delight is the epitome of comfort. Just imagine creamy, cheesy macaroni, baked to perfection, topped with a satisfyingly crispy layer of golden panko breadcrumbs. 
While some enjoy experimenting with additions like crispy bacon, savory ham, or a medley of colorful vegetables, the majority of mac and cheese enthusiasts prefer to keep it wonderfully simple, with no extra ingredients. After all, the true star of the show is the cheese itself—the undisputed queen of this recipe.
Prepare to be amazed by the abundance of cheese that graces this dish. It's a cheese lover's dream come true!
Whether you enjoy the traditional version or get creative by adding your own touch, macaroni and cheese will always have a special spot in our hearts. It brings joy to the table, uniting loved ones with its comforting embrace and leaving us longing for more. It's a timeless dish that reminds us of life's simple pleasures.
How to make Macaroni and Cheese
Begin by preheating your oven to 375F (190C). Meanwhile, cook the pasta in salted water, following the package instructions but reducing the cooking time by 1 minute.
While the pasta cooks to al dente perfection, take a medium saucepan and melt the butter over medium-low heat. Once melted, add the flour and stir until a smooth mixture forms, cooking for about 1 minute until it begins to bubble. Gradually incorporate the milk into the mixture, stirring continuously until it becomes a smooth sauce. Season the sauce with salt, pepper, and garlic powder if desired, and continue stirring until it reaches a boil and starts to thicken.
Remove the saucepan from the heat and add the cheeses, stirring until they melt and blend beautifully into the sauce. Drain the cooked pasta and add it to the sauce, ensuring every strand is coated in the creamy goodness.
In a separate small bowl, combine panko breadcrumbs with 1 tablespoon of melted butter, creating a delectable topping. Sprinkle this mixture evenly over the macaroni, adding a delightful crunch to every bite.
Now it's time to transfer the macaroni dish to the preheated oven, leaving it uncovered to bake for approximately 25-30 minutes. As it bakes, the top will turn a delightful golden brown, and the sauce will bubble enticingly beneath the surface.
Serve macaroni and cheese immediately. The harmonious blend of creamy cheese sauce, perfectly cooked pasta, and crisp breadcrumb topping is sure to tantalize your taste buds. Enjoy this comforting dish as a satisfying meal on its own or as a delightful accompaniment to your favorite main course.
Don't forget to tag me in your Instagram posts or stories, so I can see your amazing results. Enjoy!
Other pasta recipes you may like to try
These Spaghetti Carbonara are one of the easiest pasta dishes you can ever make, rich, creamy and comforting, perfect for a quick lunch or dinner. The creamy texture of the pasta is given by egg and cheese mixture and no cream is used. The eggs get cooked by the heat coming from the pasta without getting scrambled. Spaghetti Carbonara is a classic Italian recipe, with a great flavor that everybody enjoys. 
This Pasta ai Quattro Formaggi is one easy recipe that  delights all cheese lovers. The best part of this recipe is that you can use whatever four cheeses you like, but I would suggest to always keep the Parmesan Cheese as one of them. Four cheese whole wheat pasta is the perfect dish for a quick dinner or lunch, served along with a good white wine.
This Chicken Caesar Pasta Salad is a delectable fusion of classic Caesar salad and savory chicken pasta, creating a mouthwatering dish that tantalizes both pasta and salad lovers. It combines the rich flavors of chicken, al dente pasta, crisp lettuce, golden bread croutons and a creamy Caesar dressing, resulting in a symphony of tastes and textures that is both satisfying and refreshing.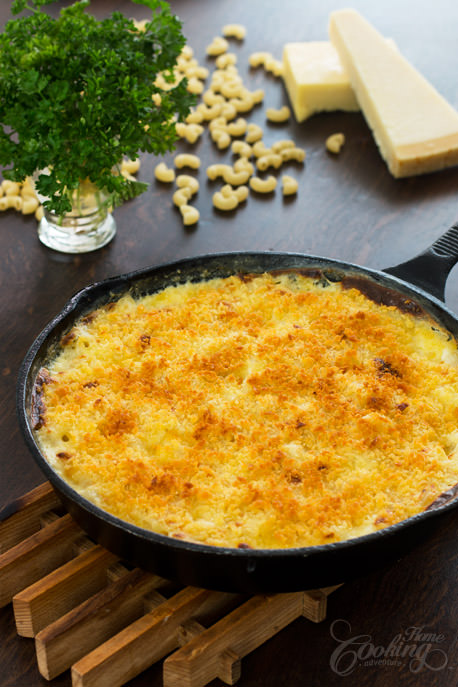 YOU MAY ALSO LIKE:
Chicken Lasagna
Broccoli and Prosciutto Pasta
Pasta ai Quattro Formaggi
Greek Pastitsio
Spaghetti Pie
Easy Three Cheese Stuffed Shells
Spaghetti with Baked Meatballs
Smoked Salmon Carbonara
Shrimp Spaghetti
Penne with Mushroom Bolognese
Homemade Tagliatelle with Tomato Sauce
Mediterranean Summer Pasta Salad
Chicken Marsala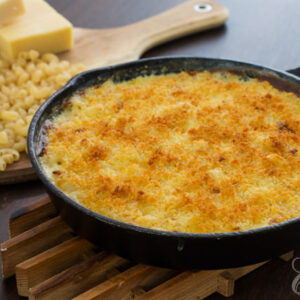 Macaroni and Cheese
There's nothing not to love about macaroni and cheese. Baked creamy, cheesy macaroni with an amazing crispy panko topping are always a comforting dish perfect for lunch or dinner. A family favorite dish every time.
Ingredients
9

oz

(250g) elbow macaroni

4

tbsp

(56g) butter

3

tbsp

(24g) all-purpose flour

2

cups

(480ml) milk

1/2

tsp

(3g) salt

freshy ground black pepper

garlic powder

, optional

1 ½

cups

(150g) Cheddar cheese

, grated

1/2

cup

(50g) Parmesan cheese

, grated

1/2

cup

(50g) Mozzarella cheese

, grated
Topping
1

tbsp

(14g) butter

, melted

1/2

cup

(30g) panko breadcrumbs

pinch of salt
Instructions
Preheat oven to 375F (190C).

Cook the pasta in salted water with 1 minute less than package instructions.

While the pasta cooks, in a medium sauce pan, melt the butter over medium-low heat. Add the flour and stir until smooth and cook for about 1 minute, until bubbling. Gradually stir in milk, until mixture is smooth. Add salt, pepper and garlic powder if used and stir constantly until the sauce boils and begins to thicken.

Turn off the heat and stir in cheeses. Add drained pasta into the sauce and stir to coat.

In a small bowl combine panko bread crumbs with 1 tbsp of melted butter and spread on top of the macaroni.

Bake uncovered for 25-30 minutes until browned and bubbly.

Serve immediately.
Nutrition
Serving:
1
serving out of 6
Calories:
467
kcal
Carbohydrates:
45.9
g
Protein:
19.5
g
Fat:
22.9
g
Saturated Fat:
14
g
Cholesterol:
66
mg
Sugar:
5.5
g