These Double Chocolate Brownies are the best brownies I have made so far,  as they are rich and delicious with a crunchy top and soft interior. The best part is when you feel the melted chopped chocolate inside… it is just DIVINE.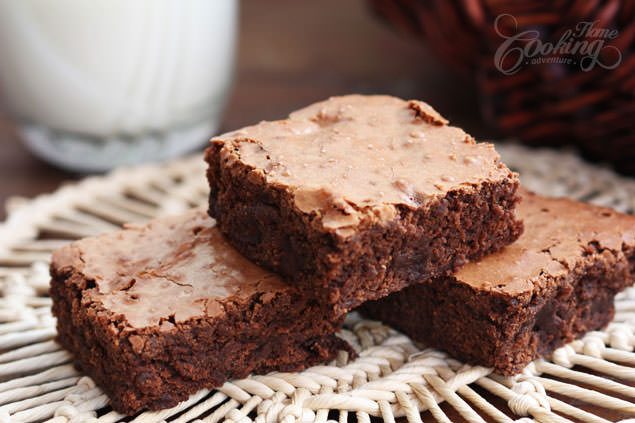 I have tried various recipes but were either too dry or missed the chocolate flavor. This recipe has it all. These brownies are fudgy, chocolatey and super delicious. The recipe is really easy to prepare, takes no more than 15 minutes to prepare and it's ready for baking. The hard part though is to let the brownies cool before serving.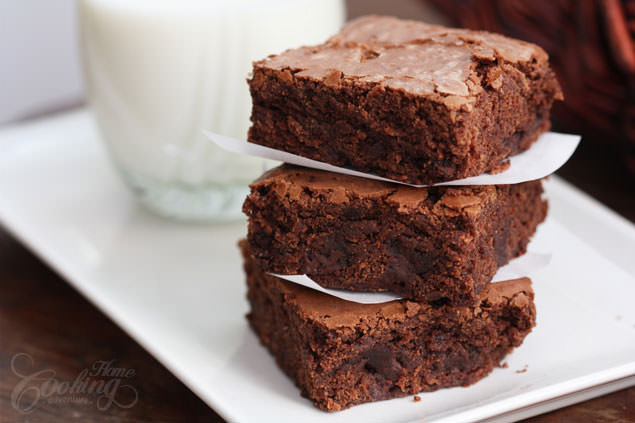 Everybody is delighted by these double chocolate brownies every time I make them. Give them a try and you will see why.
RELATED POSTS:
Healthy No-Bake Brownies
Eggless Yogurt Brownies
Skillet Brownie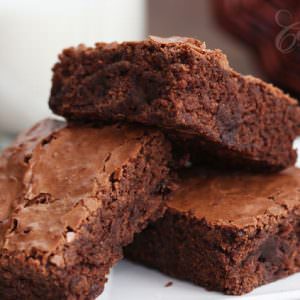 Double Chocolate Brownies
Double Chocolate Brownies, the best recipe for rich and delicious brownies with a crunchy top and soft interior. These brownies are fudgy, chocolatey and simply amazing.
Ingredients
3/4

cup

(90g) dark chocolate (55%-70%)

, for melting

3/4

cup

(90g) dark chocolate ((55%-70%))

, chopped

3/4

cup

(170g) butter

1

tsp

(1g) instant espresso powder

1

tbsp

(8g) dark cocoa powder

1

cup

(200g) sugar

1/2

tsp

(3g) salt

3

eggs

1

tsp

(5g) vanilla extract

3/4

cup

(95g) flour
Instructions
Preheat oven to 350 degrees F (180 C). Butter the sides and bottom of a 8×8 inch (20 X 20 cm) baking pan. Line the pan with parchment paper.

Melt the chocolate and butter in a medium bowl, over bain-marie, stirring occasionally, until smooth. Add espresso powder. Remove the pan from heat but keep the bowl over the water and stir in the sugar, then remove the bowl from the pan.

Incorporate the eggs one at a time into the mixture and whisk until well combined. Stir in the vanilla extract then add the flour, salt, cocoa powder and stir well. Stir in the chopped chocolate.

Pour the batter into the prepared pan and bake for about 30-40 minutes until a toothpick inserted in the center comes out with a few moist crumbs sticking to it.

Let the brownies cool completely, then carefully lift the parchment out of the baking pan. Cut into squares and serve.
Nutrition
Serving:
1
g
Calories:
492
kcal
Carbohydrates:
60.9
g
Protein:
5.9
g
Fat:
25.6
g
Saturated Fat:
16.1
g
Cholesterol:
109
mg
Sugar:
49
g