Duck Confit, an exquisite dish hailing from the rich and flavorful culinary heritage of France, is considered one of the finest examples of the country's gastronomy. This mouth-watering dish is known for its tender, moist, and flavorful duck meat, which is slow-cooked in duck fat to achieve its unique taste and texture.
How to prepare Duck Confit
To prepare this dish, cure the duck meat in a mixture of salt and spices for up to two days. This imparts a rich flavor to the meat. Cover the cured meat with melted duck fat and cook in the oven on very low heat for several hours, which makes it incredibly tender and juicy. Once cooked, preserve the duck legs by covering them in duck fat and refrigerate until ready to serve.
When it's time to serve, gently remove the meat from the fat. Sear in a pan until the skin becomes crispy, which enhances the flavor and texture of the meat. The result is a dish that perfectly balances the richness of the duck meat with the crispy skin and is sure to tantalize your taste buds.
What to serve with duck confit
While you can enjoy duck confit on its own, it also pairs well with a variety of side dishes. A refreshing salad is a popular choice.  Here you have an avocado and orange salad, with nuts and with orange juice, honey, and mustard dressing. You can also try serving it alongside braised cabbage, roasted potatoes, mashed potatoes, roasted brussels sprouts, roasted cauliflower, or any other side dish that complements the flavors of the dish.
If you want to indulge in the flavors of French cuisine and experience the true taste of luxury, then you must try the duck confit. Its rich flavors, tender meat, and crispy skin make it a truly unforgettable dining experience that you're sure to savor. So go ahead and treat yourself to this culinary masterpiece – you won't be disappointed! If you do, make sure to tag me on Instagram as l love seeing how this turns out for you.
Other similar recipes you may like to try
This Whole Roasted Chicken recipe is one of the easiest ways of roasting a whole chicken, with great results each time. This beautifully browned chicken with roasted vegetables is an impressive dish you can prepare for any occasion. The chicken is juicy with crispy skin and very flavorful due to all the spices used.
Whenever you want to prepare something impressive for a party or dinner you may want to try this easy recipe for Stuffed Chicken Breast. It is fun and easy to prepare and you can use various fillings.
This Brown Sugar and Ginger Glazed Ham can be a delightful addition to any dinner table. With its juicy meat and sweet and spicy, caramelized sticky glaze this ham will surely delight everybody at the table.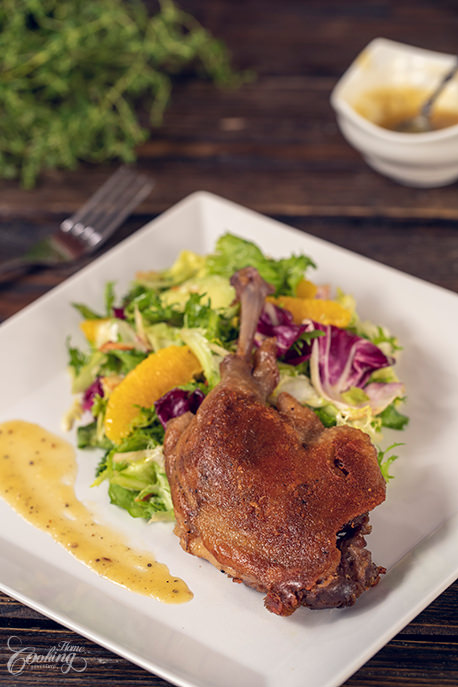 YOU MAY ALSO LIKE:
Chicken Marsala
Bacon Wrapped Chicken Breast
Teriyaki Chicken
Chicken Cordon Bleu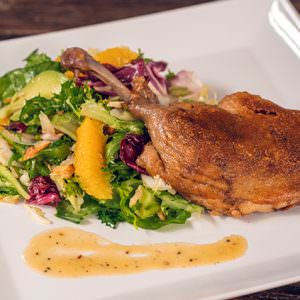 Duck Confit
Duck Confit is a traditional French dish that consists of very tender and moist duck meat that is slowly cooked in duck fat. It is one of the finest dishes in French cuisine and is absolutely delicious.
Ingredients
2

duck legs

4

garlic cloves

, sliced

1/2

red onion

, sliced

3

tsp

(15g) sea salt

Fresh herbs (like thyme

, bay leaves

Freshly ground black pepper

30

oz

(850g) duck fat
Orange and Avocado Salad
4

cups

(100g) mixed salad

1

orange

, segmented

1

small avocado

, halved

2

tbsp

(16g) almond or pumpkin seeds

, toasted

salt and freshly ground black pepper
Dressing
2

tbsp

(30g) orange juice

1

tbsp

(14g) olive oil

1

tsp

(5g) Dijon mustard

1

tsp

(10g) honey

Salt and freshly ground black pepper
Instructions
Pat dry the duck legs using paper towels. Sprinkle half of the salt on the bottom of a dish, add half of garlic, about a quarter of sliced red onion and some fresh herbs. Arrange duck legs in a single layer, skin side up, and sprinkle with the remaining salt, garlic, onion, herbs and some freshly ground black pepper. Cover the dish, and refrigerate overnight or up to 48 hours.

Preheat the oven to 240F (115C).

Remove the dish from the refrigerator and rub off the excess of salt and spices, and arrange the duck legs on the bottom of a heavy baking dish.

Melt duck fat over low heat and pour over the legs. The legs should be fully covered by fat.

Place the dish in the oven and cook, uncovered, for about 2-3 hours, until the duck is cooked and tender. (check with a knife, it should come out easily)

Remove from the oven and let cool slightly.

Transfer the legs into a heat-proof casserole dish, strain the fat over the legs and let cool to room temperature.

Refrigerate until ready to serve, up to 6 weeks.

For the salad. First prepare the dressing. In a small bowl or jar add the dressing ingredients and mix to combine.

In a salad bowl add mixed salad, segmented orange slices, avocado slices, toasted nuts and coat with the dressing. (Reserve about 2 tsp of dressing for the plating if desired).

Carefully remove duck legs from fat. I like to put the dish in a larger pan filled with warm water, over low heat, to gently melt the fat and remove the legs without breaking.

Heat a large non stick pan over medium-high heat. Add about 1 tbsp of duck fat. Add the legs skin side down and cook for about 5 minutes, flip and cook for about another 3 minutes until crisp on all sides.

Serve immediately alongside fresh salad or your favorite side dish. Enjoy!
Nutrition
Serving:
1
g
Calories:
650
kcal
Carbohydrates:
29.1
g
Protein:
27.2
g
Fat:
49.9
g
Saturated Fat:
11.4
g
Cholesterol:
94
mg
Sugar:
15
g