This Whole Roasted Chicken recipe is one of the easiest ways of roasting a whole chicken, with great results each time. This beautifully browned chicken with roasted vegetables is an impressive dish you can prepare for the upcoming holidays. The chicken is juicy with crispy skin and very flavorful due to all the spices used.
The recipe is really easy, uses really basic ingredients and you can feel free to adapt the recipe to suit your tastes, like using different herbs or none at all, different vegetables like carrots or parsnip, onion, and garlic. Just make sure to follow the steps and you will get the best-roasted chicken ever.
Hope you will try this Whole Roasted Chicken, tag me on Instagram if you do and enjoy!
For a festive dinner, you may also like this Turkey Roulade with Cranberry and Spinach Stuffing. This roulade is quite easy to prepare and looks very impressive. Another great choice is this Duck Confit. This consists of duck legs that cook slowly in duck fat. It is one of the finest French dishes and is truly delicious. This Chicken Cordon Bleu is also a great choice and a delightful way of preparing chicken . The chicken is pounded until thin, filled with ham and melting cheese, rolled, dipped in egg and coated in panko breadcrumbs and then baked or fried until crispy and golden brown.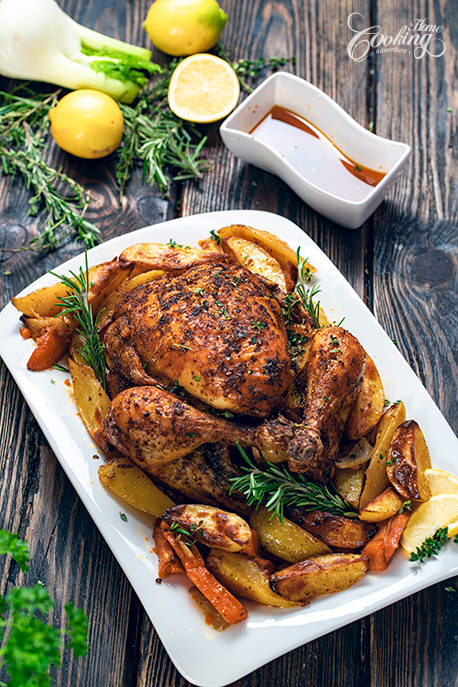 YOU MAY ALSO LIKE:
Potato Crust Quiche
Meat and Potato Skillet
Basic Mashed Potatoes
Sheet Pan BBQ Chicken and Roasted Veggies
The Best Roasted Potatoes
Tortilla de Patatas – Spanish Omelette
Potato Crust Pizza
Potato Gratin (Potato Dauphinois)
Chicken Stuffed Baked Potatoes
Baked Parmesan Sweet Potato Fries
Cheese Potato Pancakes
Roasted Potatoes, Parsnips and Carrots
Potato Tuna Patties
Easy Potato Soufflé
Roasted Potato and Cheese Tater Tots
Mashed Potato Pancakes
Twice Baked Potato with Egg on Top
Crispy Oven Fries
Stuffed Chicken Breast
Roasted Turkey Breast
Chicken Marsala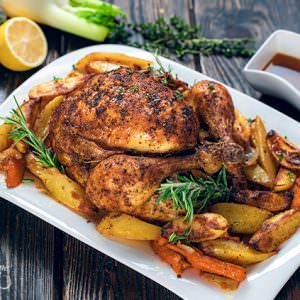 Whole Roasted Chicken
This is one of the easiest ways of roasting a whole chicken, with great results each time.
Ingredients
Makes about 6 servings
4

pounds

(1.9kg) whole chicken

2

tsp

(10g) salt

1/2

tsp

(2g) sweet or smoked paprika

1/2

tsp

(1g) freshly ground black pepper

1 ½

tsp

(5g) garlic powder

2

tsp

mixed dried herbs (oregano

, thyme

2 ½

tbsp

(35g) olive oil
For stuffing
1

lemon

, cut in quarters

2

rosemary sprigs

Fresh thyme
For Roasted Vegetables
2

pounds

(900g) red potatoes

, cut into wedges

1

pound

(450g) sweet potato

, cut into wedges

1

fennel bulb

, sliced 1/2 inch (1cm) thick

1/2

tsp

(3g) salt

1/4

tsp

freshly ground black pepper

1/2

tsp

(2g) caraway powder

1 ½

tbsp

(20g) olive oil
Instructions
Pat dry the chicken using paper towels and let it get to room temperature for at least 30 minutes.

Preheat the oven to 350F (180C), with fan on.

In a bowl combine all spices, salt, pepper, paprika, garlic powder and dried herbs with the olive oil.

Season the cavity with salt and pepper.

Coat the chicken with olive oil mixture, on all sides. If not already tied up, tie the legs with a cooking string. Set aside at room temperature until you prepare the vegetables for roasting.

Cut red potatoes and sweet potatoes into wedges, the fennel bulb into thick slices and place in a baking sheet. Sprinkle with salt, pepper, caraway powder, drizzle with olive oil and toss to coat.

Place the oven rack on top of the vegetables and place the chicken on the center of the rack with breast side up.

Stuff the chicken with 1 lemon cut into quarters and with two fresh rosemary sprigs and fresh thyme.

Pour 1 cup (240ml) hot water into the baking dish and place in the preheated oven.

Roast for about 20 minutes per pound (45 minutes per kg), in my case for 80 minutes. Baste the chicken with the dripping sauce, every 30 minutes.

If water evaporated too early, add another up ½ cup hot water into the pan.

Check the internal temperature until it reaches 165°F (75°C).

Place the chicken onto a serving platter, arrange the vegetables around it and let it sit for 15-20 minutes before carving.

Keep the remaining sauce to serve alongside.

Decorate the platter with fresh rosemary, fresh thyme and lemon wedges. Enjoy!
Nutrition
Serving:
1
g
Calories:
624
kcal
Carbohydrates:
43.7
g
Protein:
36.4
g
Fat:
34.5
g
Saturated Fat:
8.7
g
Cholesterol:
141
mg
Sugar:
6.6
g