Craving a delectable homemade bread but short on time? Look no further than these easy and quick Yogurt Flatbreads, where the magic of yogurt and cheese come together to create a mouthwatering treat. In just a few simple steps, you'll create a batch of delectable flatbreads that are perfect as a side dish or a delectable appetizer.
The secret to the simplicity of these flatbreads lies in the absence of yeast, eliminating the need for lengthy proofing and rising times. Instead, we rely on the dynamic duo of yogurt and cheese to create a fluffy and flavorful base. The yogurt adds a delightful tanginess while keeping the dough moist, and the cheese imparts a rich and savory note that will leave you wanting more.
How to make yogurt flatbreads
To whip up these tasty flatbreads, begin by combining flour, baking powder, and a pinch of salt in a mixing bowl. Then, incorporate your yogurt and grated cheese, whether it be cheddar, mozzarella, or your favorite cheese variety. Mix until a soft, pliable dough forms.
Once the dough is ready, divide it into 12 equal pieces and shape each piece into a ball. Preheat a pan over medium-high heat, ensuring it reaches the desired temperature. No oil or butter is necessary; the hot pan will work its magic on the flatbreads.
On a floured surface, roll each ball of dough into a circle approximately ¼ inch (6mm) thick. Place the flattened dough onto the hot pan and let it cook for about a minute.
As the flatbreads cook, marvel at the tantalizing aroma that fills your kitchen. The heat causes the dough to puff up and develop golden brown spots. The cheese melts and melds with the other ingredients, infusing each bite with a delightful cheesiness.
Carefully flip the flatbread and continue cooking until the bottom achieves a golden brown color, with an uneven distribution of spots adding to its rustic appeal. Repeat this process with the remaining pieces of dough until all the flatbreads are cooked to perfection.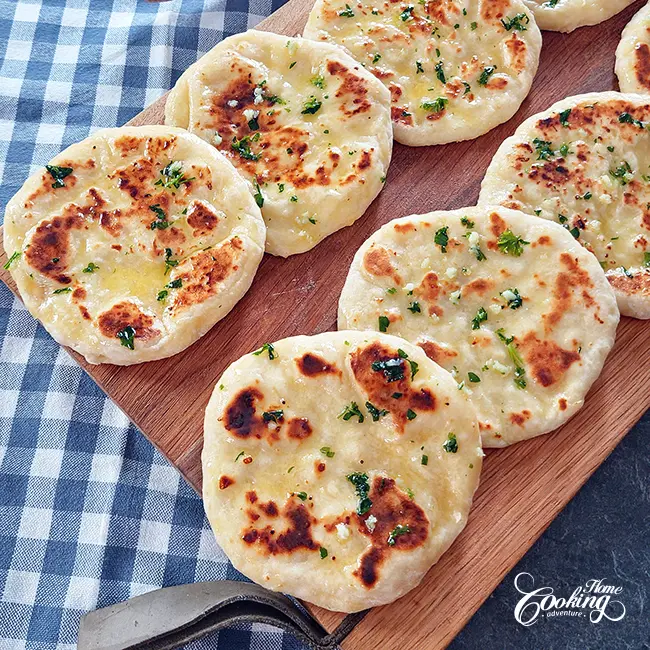 Prepare the butter parsley mixture
To elevate the flavor profile, prepare a delightful butter parsley mixture. Melt butter in a small saucepan and add minced garlic, fresh parsley, and a pinch of salt. Let the mixture cook for a minute, allowing the flavors to meld together beautifully.
Once cooked, brush each flatbread generously with the aromatic butter parsley mixture. The combination of the warm, cheesy flatbreads with the flavorful butter infusion is heavenly.
How to enjoy yogurt flatbreads
These cheesy yogurt flatbreads are perfect companions to your favorite dishes or can be enjoyed as a delicious appetizer. They make a fantastic accompaniment to soups and stews, a scrumptious base for pizzas, or a delightful vehicle for dips and spreads. Their versatility knows no bounds. I always like to make these flatbreads whenever I make Chicken Tikka Masala for my family. These flatbreads are similar with Naan but much easier to prepare.
With their effortless preparation and irresistible taste, these Easy and Quick No-Yeast Flatbreads are a game-changer for busy individuals who refuse to compromise on flavor. So why settle for store-bought when you can enjoy the satisfaction of freshly made bread in a fraction of the time? Treat yourself to these delightful flatbreads and experience the joy of homemade goodness, made simple and delicious. If you do, make sure to share the photos with me on Instagram. Enjoy!
Other flatbread recipes you may like to try
Discover the authentic flavors of Indian cuisine with Homemade Naan Bread, featuring a soft and pillowy texture that pairs perfectly with curries and kebabs.
Elevate your Mexican-inspired dishes with Homemade Tortillas, made from scratch for that unbeatable fresh and flavorful experience.
Experience the delight of the Mediterranean with Homemade Pita Bread, known for its fluffy interior and versatile nature, ideal for dipping, stuffing, or enjoying on its own.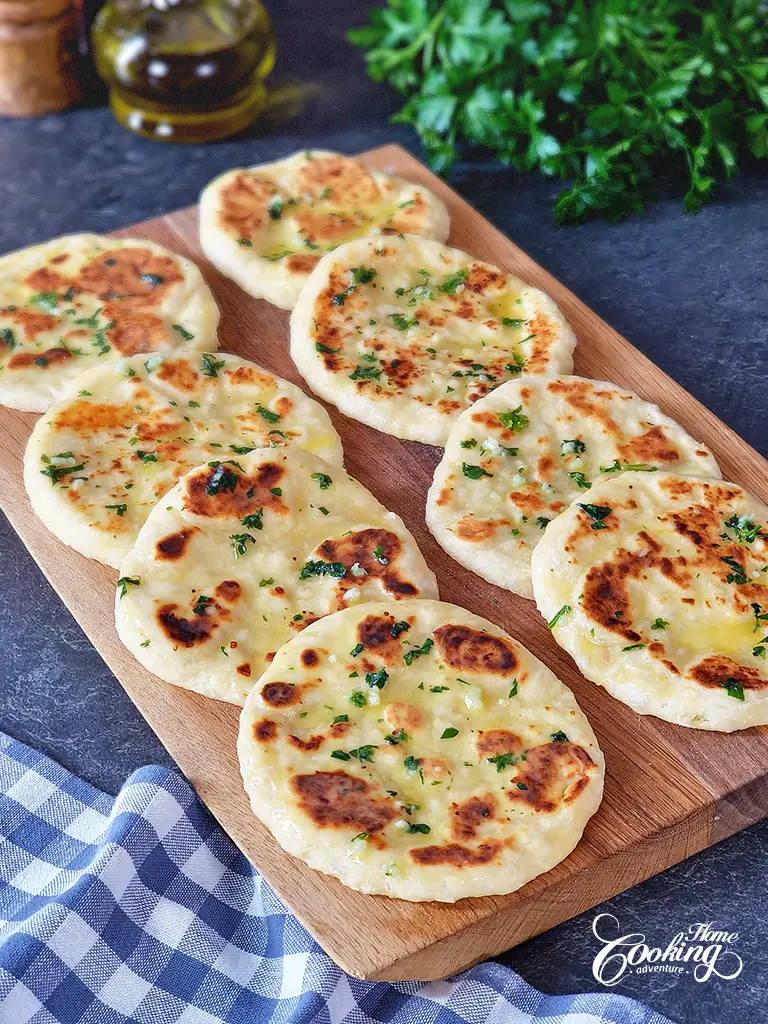 YOU MAY ALSO LIKE:
Homemade Cheese Piadinas
Cheddar Biscuits
No-Yeast Breakfast Pizza
Challah Bread
Classic Focaccia
Chicken Stromboli
Eggless Savory Scones
Easy Homemade Bread – 4 Ingredient Bread
Pita Bread Chips
Twisted Pumpkin Bagels
Easy Burger Buns
Pizza Pinwheels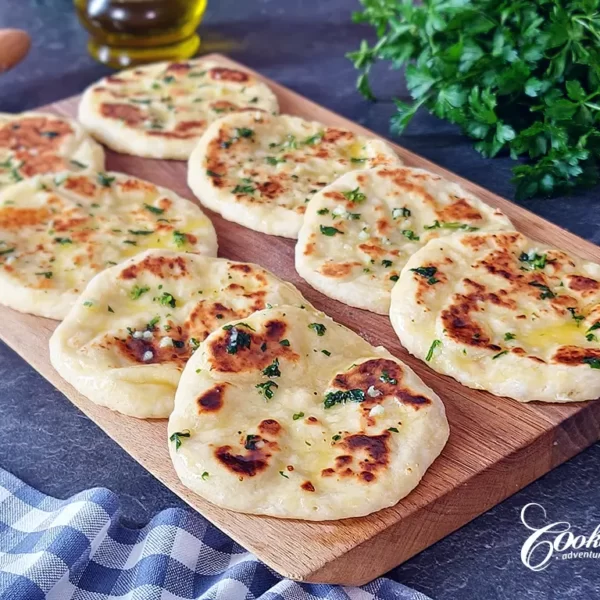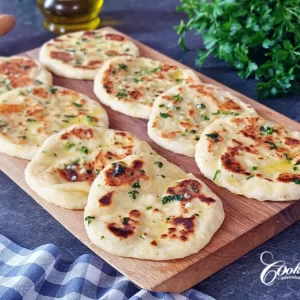 The Best Yogurt Flatbreads
Easy and quick Yogurt Flatbreads, where yogurt and cheese create a mouthwatering treat perfect as a side dish or appetizer.
Ingredients
2 ½

cups

(320g) all-purpose flour

1 ½

cups

(380g) Greek yogurt

2 ¼

tsp

(10g) baking powder

1

tsp

(5g) salt

1/2

cup

(50g) cheddar cheese

, grated
For Brushing the Tops
3

tbsp

(45g) butter

1

clove garlic

1

tbsp

fresh parsley

, chopped

1/4

tsp

(1g) salt
Instructions
In a large bowl stir together flour with baking powder, salt and cheddar cheese.

Add yogurt, mix to combine and knead for a few minutes until you get a smooth dough.

Divide the dough into 12 pieces. Shape each into a ball.

Preheat a pan over medium-high heat. You don't need to add any oil or butter. It has to be really hot.

On a floured surface roll each piece of dough into a circle until ¼ inch (6mm) thick.

Cook for about 1 minute, until bubbles appear on the surface and the bottom has brown spots.

Flip the bread and continue cooking until the bottom gets golden brown, unevenly, and with spots at some places.

Repeat with the remaining pieces of dough.
Prepare the butter-parsley mixture.
Melt the butter into a small saucepan, add garlic, parsley and salt and cook for 1 minute. Remove from heat.

Brush the flatbreads with butter mixture. Serve with your favorite dishes or as an appetizer.
Nutrition
Serving:
1
flatbread
Calories:
157
kcal
Carbohydrates:
22.2
g
Protein:
7
g
Fat:
4.3
g
Saturated Fat:
2.7
g
Cholesterol:
11
mg
Sodium:
215
mg
Potassium:
163
mg
Fiber:
0.8
g
Sugar:
1.4
g
Calcium:
103
mg
Iron:
1
mg