Balmos Romanian Cheese Polenta is a traditional dish that originated in the picturesque region of Transylvania, Romania. This mouthwatering delicacy combines the rich flavors of creamy polenta with the distinctive taste of local cheeses. It is a culinary experience that is sure to delight the senses.
The foundation of Balmos Romanian Cheese Polenta lies in the preparation of the polenta itself. Made from finely ground yellow cornmeal, the polenta is cooked slowly over low heat, allowing it to absorb the flavors of the ingredients added to it. The result is a smooth and velvety texture that forms the perfect base for the cheese.
Served hot, Balmos Romanian Cheese Polenta is a comfort food that warms the soul. It is a versatile dish that can be enjoyed as a main course or as a side dish alongside salad, sauteed mushrooms, grilled meats or stews. Its hearty nature makes it a popular choice during cold winter months, but its delicious flavors are equally enjoyable year-round.
How to make Balmos  – Romanian Cheese Polenta
Balmos – Romanian Cheese Polenta is a simple yet delightful dish that can be easily prepared in a few steps.
First, combine a mixture of yogurt, milk, sour cream, eggs, oil, and cheese in a pot. These ingredients come together to create a creamy and flavorful base for the polenta. Place over medium heat, stirring constantly, until it reaches a boiling point.
After boiling, reduce the heat to low and slowly add cornmeal. Stir continuously to prevent lumps from forming and help the cornmeal to incorporate into the mixture.
Season with salt and let it simmer for about 15-20 minutes, with regular stirring, until it thickens and begins to pull away from the sides of the pot.
Once the desired consistency is achieved, serve the hot Balmos Romanian Cheese Polenta with a fresh salad, drizzle it with your favorite sauces, or serve it alongside meat for a complete and delicious meal.
Whether you are a fan of traditional Romanian cuisine or simply seeking to explore new flavors, Balmos Romanian Cheese Polenta is a culinary delight that you shouldn't miss. With its creamy texture, cheesy goodness, and comforting flavors, this cheese polenta is sure to please your taste buds and leave you wanting more. Hope you will give this amazing dish a try. If you do make sure to share the photos with me on Instagram. Enjoy!
Other Romanian dishes you may like to try
The Romanian Cabbage Rolls- Sarmale – are one of the most delicious dishes that Romanian people prepare for family gatherings and especially for holidays. Stuff the cabbage leaves with ground meat, rice and herbs mixture and then cook with tomato juice and some smoked meat for extra flavor.
Pasca is a traditional Romanian Easter bread that is typically made during Holy Week for Easter Sunday. It is a rich, sweet bread with a mixture of cheese, eggs, and raisin filling.
This Romanian Eggplant Salad is a tasty and healthy way to cook eggplants. Mix the roasted eggplants with onions and homemade mayonnaise for an amazing appetizer idea. Enjoy this refreshing and versatile dish as a dip, spread, or side.
These Potato Fresh Plum Dumplings are a delicious comforting dish known in many European countries. Take potato dough and envelop it around fresh prune plums. Shape them into balls, and then boil them until the plums reach a tender state. Next, coat the dumplings with a delightful blend of sweetened cinnamon toasted buttery breadcrumbs.
Discover the delightful flavors of this traditional Romanian Sweet Cornbread. This heavenly dessert captures the essence of corn, combining its natural sweetness with a moist and tender texture. With every bite, savor the harmony of aromatic vanilla and tangy yogurt elevating this cake to a true culinary delight.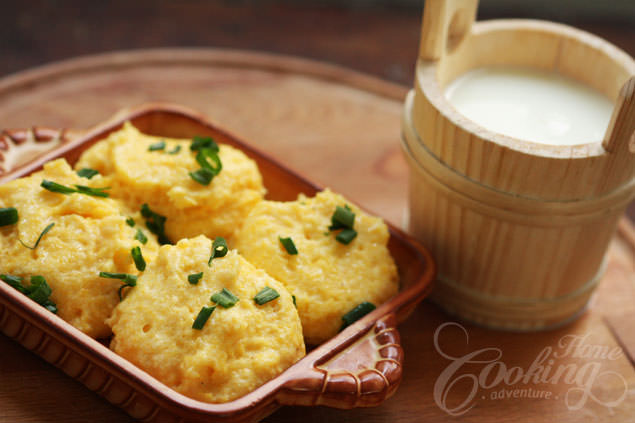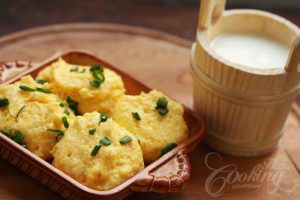 YOU MAY ALSO LIKE:
Corn Fritters
Cornmeal Pancakes
Skillet Cornbread
Summer Corn Salad
Oven Roasted Corn
Baked Cornflake Crusted Chicken Strips
Cauliflower Gratin
Macaroni and Cheese
Roasted Baby Potatoes
Crustless Spinach Bacon Quiche
Basic Mashed Potatoes
Crispy Sliced Roasted Potatoes
Broccoli Cauliflower Salad
Homemade Cheese Piadinas
Mashed Potato Casserole
Cheese Soufflé
Cheese Potato Pancakes
Easy Three Cheese Stuffed Shells
Sweet Potato Souffle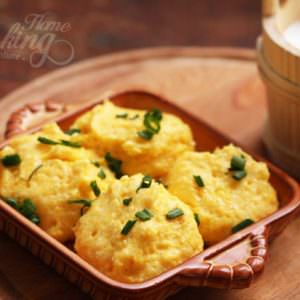 Balmos - Romanian Cheese Polenta
Balmos - or cheese polenta, a rich, cheesy dish, absolutely delicious. Yogurt makes it a little tart tasting, a perfect side dish along a fresh salad or meat.
Ingredients
14

oz

(400g) plain yogurt

14

fl oz

(400ml) milk

7

oz

(200g) sour cream

3

eggs

, beaten

1/4

cup

(60g) cold pressed sunflower oil

1

tsp

(5g) salt

1

cup

(100g) cheese

, grated

1 ¼

cup

(200g) cornmeal
Instructions
In a medium heavy pot combine yogurt with milk and sour cream. Stir in eggs, oil and cheese and bring to a boil.

Reduce heat and add cornmeal slowly, stirring continuously. Add salt and let it simmer for about 15-20 minutes, stirring constantly. It is done when it pulls away from the sides of the pot.

Serve hot with a fresh salad or with some of you favorite sauces or as a side dish along meat.
Nutrition
Serving:
1
serving out of 4
Calories:
648
kcal
Carbohydrates:
48.4
g
Protein:
24.8
g
Fat:
40.2
g
Saturated Fat:
16.9
g
Cholesterol:
202
mg
Sugar:
12.7
g